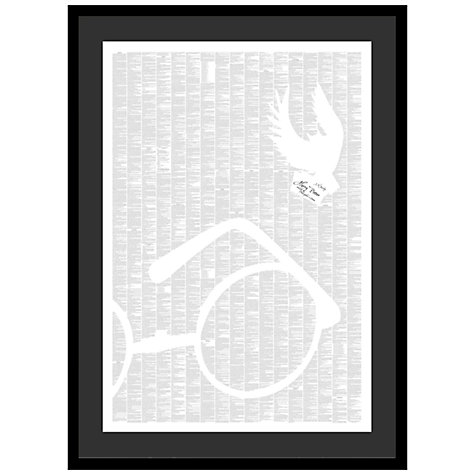 Tags
Spineless Classics Harry Potter and the Philosopher's Stone Framed Print, 114 x 83cm
£150.00
from John Lewis
This fabulous typographic art work by Spineless Classics features the entire novel of J.K Rolling's Harry Potter and the Philosopher's Stone. The first epic Harry Potter book which was first published in June 1997 has been recreated into artwork displaying the whole text around a silhouetted design of Harry's glasses and Hedwig owl who carries the publications title and author.
The story is printed in a crisp 4 point font that is perfectly legible if you have 20/20 vision. The whole image is created using state-of-the-art printing technology on lush, satin finish heavyweight paper and framed in a black frame measuring 114 x 83cm.
John Lewis sell a range of Spineless Classic artwork including Alice in Wonderland, Peter Pan, Romeo and Juliet and more.
---