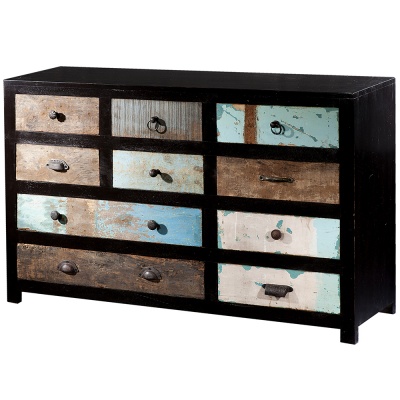 Tags
The Portobello 10 Drawer Wide Cabinet
£509.00
A professionally styled Shabby Chic drawer cabinet offering a distressed finish where no two furniture pieces are the same. The unique styling of each drawer front comes from reclaimed wood from a variety of sources and type including Mango, Teak, Acacia and Pine wood, each having a painted and distressed effect and finished with a range of uniquely styled handles and knobs. The exterior frame of the cabinet is made from Mango wood with a black painted finish which ensures a consistent quality throughout the Portobello collection.
The overall look of the Portobello Drawer Cabinet and indeed the whole Portobello Furniture Collection is quirky and eclectic with a vintage style shabby chic look which is bang on trend in interior design. A great off the shelf option for those who don't have the time or the skill the recreate the distressed effect yet still want a unique item of furniture that is not mass produced.
The Portobello 10 Drawer Wide Cabinet measures 120cm in width, 35cm in depth and 76cm in height. There are currently ten other pieces of drawer cabinets in the Portobello range at Barker and Stonehouse.
---